From our family to yours.
Check this out!! The Workshop Clock have made a clock with our logo on!! Now it's always time to Swimrun!! 🏊🏻‍♀️🏃🏽‍♂️😀 If you fancy one of these on your wall head over to their shop! All profits go to the artisan makers who care fully create each clock lovingly by hand. We are just happy to be featured on the face! 😊
Love Swim Run
Race Organiser
My clock looks incredible! I was so amazed at the details of the clock. The colours look fab and I just love seeing my brand on the wall in my salon for my customers to see
Avibraids
Hair Salon
How cool do our clocks look! It's even in a stop watch shape which is brilliant since we're sports timers. Striking appearance and a quality looking product. Thanks!
Race Timing Solutions
Race Timing Company
I've got a couple of beautifully carved branded clocks and couldn't be more satisfied with the quality and the details. Great product totally recommended!
Krono:Sports
Race Timing Company
We ordered a branded clock for our office. It had our logo on it and it looks fantastic! Definitely recommend 🙂
Active Training Wolrd
Sports Timing Company
Nice surprise this week from Dennis and Abi @workshopclock who have made us this...big thanks guys outstanding. Amazing job that's going straight on the wall 🙌🙌🙌
Paul
Ride Tribe
Wood carved Clocks
for every room
Our flagship wood carved clock that kick started this venture for us.
We've had a little fun adjusting the layout of the atlas to include various continent. Because Africa is the most iconic continent, we have made it the central figure.
Dennis and I personally craft all our clocks with precision, passion and a lot of love to give you the best quality wood carved clocks.
We absolutely love these clocks and we know you will too.
Oh, did we mention it's free delivery anywhere in the UK.
Dennis and I personally craft all our clocks with precision, passion and a lot of love to give you the best quality wood carved clocks…
For your continued support of our small family business.
About Your  wood carved clock…
All Our clocks are made right here, in the UK & We offer free UK Delivery
If you're happy with the clocks – please help our small business by leaving a product review
To provide you with an authentic product, we individually make the clocks to order, right here in our Hertfordshire based workshop; therefore they may take 2 to 3 working days to complete; sometimes a little longer – but don't worry, we will keep you updated as soon as your clock is on its way to you.

Thanks again for supporting our small family business.
-Abi & Dennis
If you need to get intouch with us we're available to answer your enquiries whenever you need.
Beautiful, Elegant, Unique and Stylish Wood carved clocks.
Our clock designs fit in any space.
We have included one screw,  a wall plug, as well as a AA Duracell battery to your, so you can enjoy your clock straight away.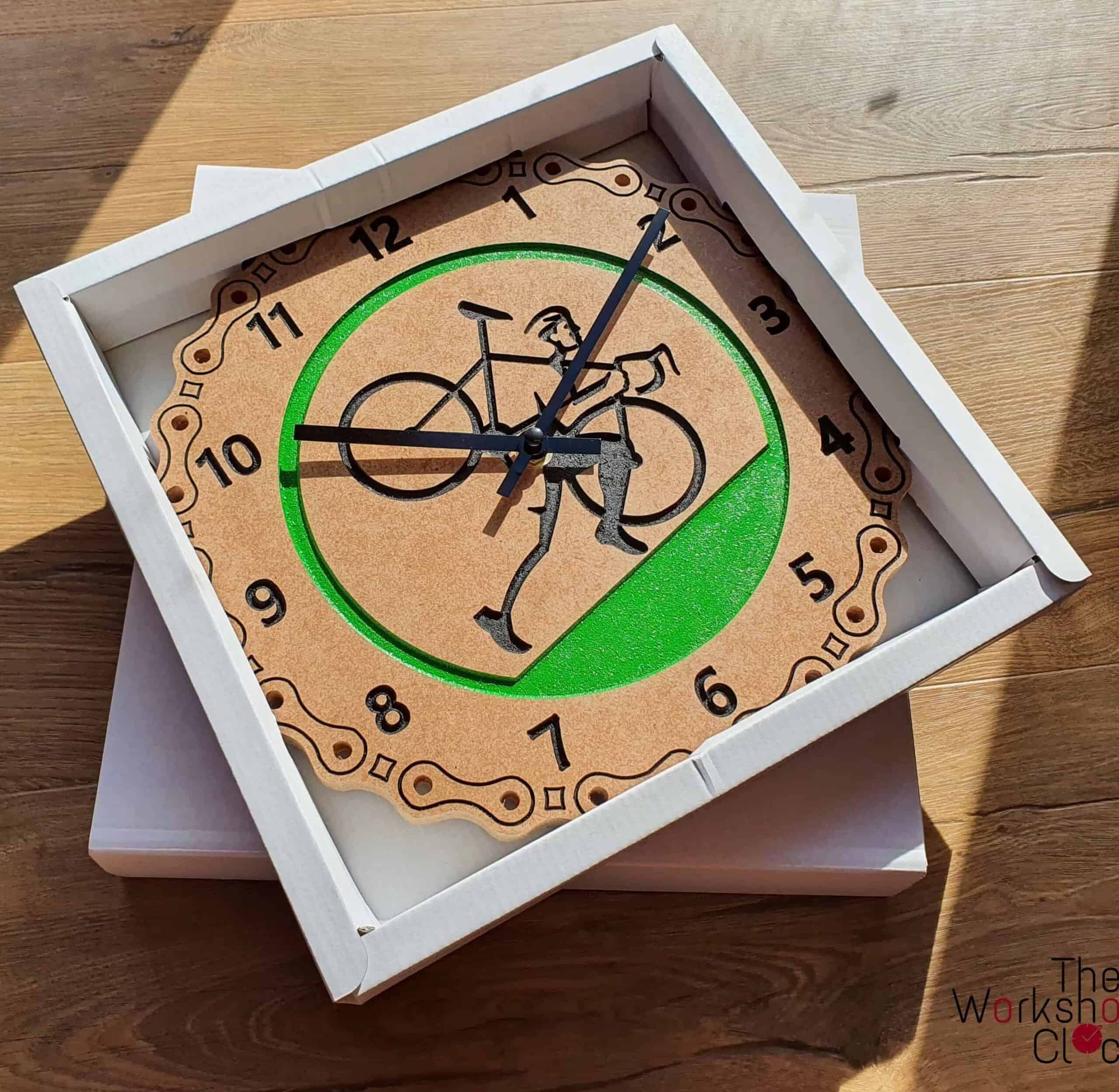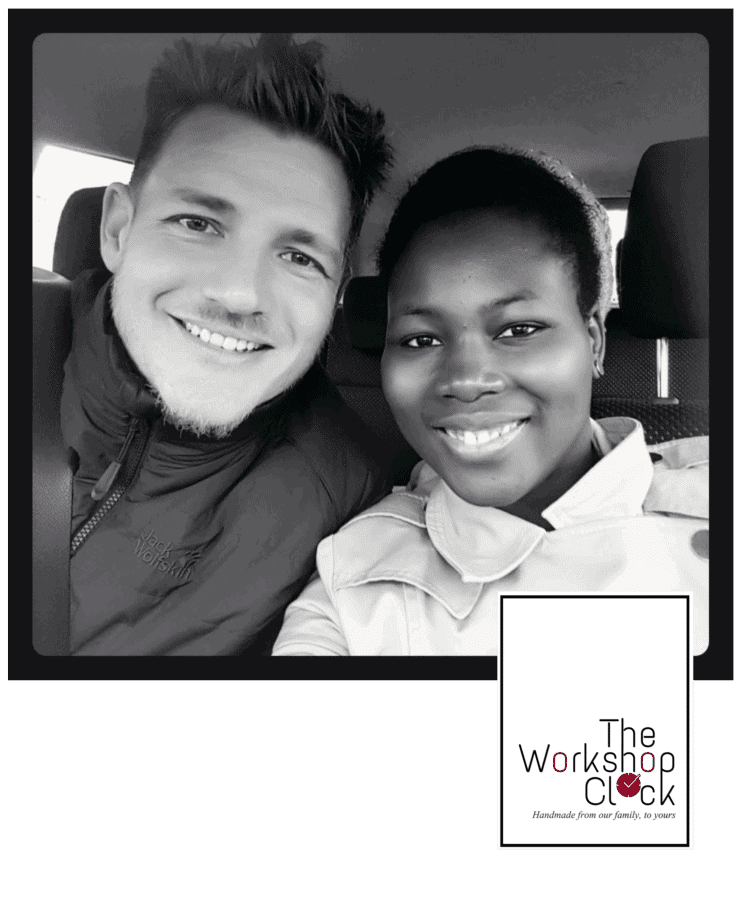 We're the couple bringing your these awesome clocks.
Ready to buy your clocks?
During the pandemic of 2020/2021 – Dennis – the owner of one of the UK's leading chip timing companies had to make a very painful decision to layoff all his beloved staff. With no sports events permitted, Dennis' company was at a standstill. No income and more time on his hands than he liked so he begins searching for other ways he could use his time to develop an alternative avocasion that had the possibility of an income for him and his family.
Dennis has always had a passion for wood craft, having had a previous company doing landscaping in his home county of Denmark, his long-term hobby of building sheds, shelves and fencing, coupled with an acute understanding for measurements, he knew his way around tools.
Dennis has always practise strict attention to detail, passion, and precision to anything he lays his hands on, so it came at no surprise that he one day decided to try making things out of wood and see where the venture took him. 
Three months of banging and clanging in his workshop, he finally came home with a prototype of a clock he had made. Although not anywhere near as refined as the ones we now sell, it was quite eye catching. Pleased with his work and equally important, his family's response – he began refinements of his craft until he finally brought one home that really took everyone's breath away.
And there you have it – The Workshop Clocks as you see and love them now.
I'm Abi, the
prettier half of this partnership. [pause for laughter].
Just like Dennis, the global pandemic also took away my
work as a HR Manager. My answer to a desperate need for work was my salon,
which I fashioned overnight and grew to a moderate success during its few months of
operation. 
However, as many in the hospitality and beauty industry;
I was struck with the blow of the second and then third lockdowns, which at the
time of writing this self-introduction, is still going on. Once again, I was
left with no work; so you can imagine that when Dennis, my wonderful husband
came home with his crafted clock, I was impressed, intrigued and filled with excitement of what it could become, what his craft could provide us as a family. 
To work I went, taking pictures and posting on social
media, hoping to get as strong as a buzz as I had with my salon. Within a day
of my postings, we sold one clock, 3 a week after. Not a rocket head starts –
but it gave us enough excitement to try and fashion a company out of our new found
golden goose. 
Both Dennis and I hope you get as much excitement from
your clocks as we do, because they truly are made with love from our family to
yours.